Ethicon Physiomesh® lawsuit
Ethicon Physiomesh® Lawsuit: Injured by an Ethicon Physiomesh® implant?

Ethicon Physiomesh® Lawsuit - How You Qualify:
Ethicon Physiomesh® Lawsuit - You Don't Qualify if:
Are You Injured After A Ethicon Physiomesh® Implant?
Call Toll Free To Speak With A Mesh Attorney:
1-844-275-6900
Do you qualify for a Ethicon Physiomesh® lawsuit?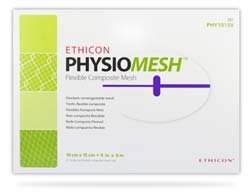 Ethicon Physiomesh® Mesh Implant
A large number of individuals throughout the United States have reported suffering severe and debilitating problems following Ethicon Physiomesh® hernia mesh surgery. In fact, thousands of lawsuits are expected to be filed.

Physiomesh is a flexible composite mesh that are used to repair hernias and reinforce weaknesses in the abdominal wall which could cause hernias. Surgeons implant the mesh over an opening or weak spot on the abdominal wall. The idea is that the mesh creates a strong barrier to prevent your internal organs from squeezing through.

However, the failure rates for Ethicon Physiomesh mesh appear to be unreasonably high, potentially resulting in the need for revision surgery and leaving patients with permanent and debilitating health problems.

Ethicon Physiomesh were introduced to the medical device market using the 510(k) FDA approval system. This system allows companies to introduce medical devices without rigorous pre-market research and studies. Both manufacturers only had to demonstrate that it was "substantially equivalent" to a previously approved hernia mesh system. As a result, the manufacturer was not required to conduct thorough testing or research to establish whether users may face an unreasonable risk of problems following Physiomesh hernia repair.
Health Problems Caused by Ethicon Physiomesh® Hernia Mesh Implant
No company has done less to earn the name "Ethicon" than Ethicon. We're willing to wager that Ethicon is one of the most unethical pharmaceutical companies around – and that's saying something.

The U.S. Food and Drug Administration (FDA) knew that Johnson & Johnson's Ethicon Physiomesh was an inferior, dangerous product. That's why the agency strongly encouraged Ethicon to recall the Physiomesh in 2016.

Even though Ethicon did recall the Physiomesh, the company won't admit it. Johnson & Johnson calls the recall a "voluntary withdrawal."

The problems with the Ethicon Physiomesh can be traced back to the problems with its design. In fact, the things that make the Ethicon Physiomesh stand out in a medical marketplace crowded with hernia mesh products are not its benefits, but its flaws. Sadly, it is now believed that the Ethicon Physiomesh hernia mesh can cause major complications for patients. These complications can include:
Possible Ethicon Physiomesh® Complications
All hernia mesh devices are made of polypropylene, a strong, lightweight plastic with a million and one uses. But polypropylene, even when sterilized, has been shown in countless clinical trials to decay when implanted in the human body. When it decays, it can cause infection. It can even cause severe bleeding and trauma in internal organs.

Nevertheless, the manufacturers of the Ethicon Physiomesh decided to compromise its quality by using an especially lightweight polypropylene.

So Johnson & Johnson made an unsafe product even less safe. Not only is it more prone to decaying, but the Physiomesh can easily rip. The sole purpose of a hernia mesh is to keep internal tissues in place. A ripped hernia mesh is utterly useless. More than that, it's dangerous.

Kind of makes you wonder why any doctor or surgeon would recommend the use of the Ethicon Physiomesh.

And that's why it's important to remember that your doctors are as much as victim of Johnson & Johnson's greed as you are. Your doctors and surgeons were on the receiving end of countless sales pitches – both high-pressure and subtle – from Johnson & Johnson. Whether they knew it or not, they were coerced by Johnson & Johnson to recommend the Physiomesh.

And now you're paying the price.
Ethicon Physiomesh® recall
Ethicon is a division of Johnson & Johnson. Ethicon issued an urgent field safety notice and withdrew their product from the market in May 2016. The notice included a recall of all existing stock held by healthcare facilities for all variations of the Physiomesh product line. Health Canada issued a recall for Physiomesh products. It's estimated that as many as 300,000 people have been implanted with Physiomesh in the United States since the product was approved in 2010. Approximately 30,000 patients in Canada also received the mesh.

JOHNSON & JOHNSON'S HERNIA MESH DEVICES, PROFITS AND LITIGATION There are dozens of hernia mesh products on the market, but only one is backed with the full force and might of one of the biggest and most powerful corporations in the world: Physiomesh.

The label on the Physiomesh packaging says that it was made by a company called Ethicon. Look a little closer, and you'll see that Ethicon is a subsidiary of Johnson & Johnson, the gigantic corporation responsible such safe, homey medicine-cabinet staples as Band-Aids and baby powder.

Well, "Band-Aid" has come to mean "a superficial solution," and baby powder has been implicated in countless deaths from ovarian cancer. So much for safe and homey.

Like Johnson & Johnson's baby powder, the Ethicon Physiomesh is another seemingly harmless, helpful product that turns out to be a silent killer.

In 2016, the World Economic Forum listed Johnson & Johnson as the 8th-largest company in the world, and the single largest healthcare company in the world.
Johnson and Johnson's Initiatives
Hernia Mesh Lawsuit Update: First Ethicon Physiomesh Bellwether Now Scheduled For September 2021
May 11, 2021
Author: Daniel Gala

Following a number of delays, the first bellwether trial in litigation over Ethicon Physiomesh hernia mesh has been scheduled to begin in September 2021, according to a court order issued April 26.

The case involves plaintiffs Jim B. Crumbley and his wife Diane Crumbley, Georgia residents who have sued Ethicon and its parent company, Johnson & Johnson, on a total of nine counts, including defective design, failure to warn, manufacturing defect, negligence, as well as Georgia state consumer protection laws and loss of consortium. Jim Crumbley had Ethicon Physiomesh surgically implanted into his body in July 2014, and he and his wife sued the defendant companies fewer than 4 years later, filing their complaint in February 2018, according to court documents.

Multidistrict litigation (MDL) over Ethicon Physiomesh was established in June 2017, grouping together—at the time —49 cases from 29 different federal districts that were all based on similar allegations against Ethicon and J&J.

"All of the actions share common factual questions arising out of allegations that defects in the defendants' Physiomesh hernia mesh can lead to complications when implanted in patients, including herniation through the mesh, recurrent hernia formation and/or rupture, and deformation of the mesh," wrote the Judicial Panel on Multidistrict Litigation (JPML) in the transfer order creating the MDL and assigning it to the Northern District of Georgia.

Plaintiffs allege that these complications have caused serious, life-altering conditions, including debilitating, chronic pain. Many have undergone so-called revision surgeries in an effort to remove the offending mesh and repair the damage done. In some cases, multiple revision surgeries have been performed, and the patients' symptoms still have not been fully alleviated.

As of May 10, 2021, the Ethicon Physiomesh MDL had included a total of 3,680 cases, according to court records.

After the parties had narrowed the thousands of cases in the MDL down to four "trial cases", the plaintiffs selected the Crumbley case to be the first bellwether trial. These decisions were formalized in a January 6, 2021 court order that set the date of the first trial for March 18, 2021, a date which now has been postponed to September 13, 2021, pursuant to the April 26 order.

With September 13 originally having been the start date for the third bellwether trial (and June 7 the scheduled start date for the second bellwether), the subsequent bellwether trials have been postponed, as well.

Sources:

United States District Court Northern District of Georgia Atlanta Division. (26 April 2021). Amended Discovery, Scheduling, and Case Management Order for Crumbly Matter. In Re: Ethicon Physiomesh Flexible Composite Hernia Mesh Products Liability Litigation. Case No. 1:17-md-02782-RWS. Jim B. Crumbley and Diane Crumbley—Case No. 1:18-cv-00748

United States District Court Northern District of Georgia Atlanta Division. (20 February 2018). Amended Discovery, Scheduling, and Case Management Order for Crumbly Matter. In Re: Ethicon Physiomesh Flexible Composite Hernia Mesh Products Liability Litigation. Case No. 1:17-md-02782-RWS. Jim B. Crumbley and Diane Crumbley—Case No. 1:18-cv-00748

Judicial Panel on Multidistrict Litigation (JPML). (2 June 2017). Transfer Order. In Re: Ethicon Physiomesh Flexible Composite Hernia Mesh Products Liability Litigation. MDL No. 2782

United States District Court Northern District of Georgia Atlanta Division. (Last Updated 10 May 2021). Member Case List for 1:17-md-2782. In Re: Ethicon Physiomesh Flexible Composite Hernia Mesh Products Liability Litigation. Case No. 1:17-md-02782-RWS
Legal Disclaimer: The information in this article is not intended to be used as medical information or diagnosis. The sources of the information presented in the article have been researched and are linked within the article. Please seek out medical advice from a licensed medical professional if you are experiencing a problem with any of the drugs or devices mentioned in this article.